Sold Out
Please call 07891 950660 or email info@jesshornyoga.com to find out the date of our next similar workshop or retreat and to be added to the waiting list.
A Women's Wellbeing Retreat with Yoga & Nutrition
Tuesday 10th – 13th May 2022 (4 days, 3 nights) / Fair Oak Farm Country Estate, Sussex
*MORE DATES COMING SOON!*
*as featured in the Top 9 Wellness Retreats in Europe by Book Retreats*
Nestled in the 12 acre Sussex country estate and set within wonderful gardens accommodation includes a stunning Grade II Listed Sussex farmhouse (c1600), a range of converted Grade II Listed farm buildings and barns, Luxury Eco-lodge tree houses and gorgeous shepherd's huts.
The accommodation is set amongst stunning Sussex countryside with protected land surrounding the estate. Spend your free time walking the numerous footpaths that lead from the estate or simply sitting amongst the lush gardens that will be bursting with blossom in May, a perfect month to experience the beautiful trees and shrubs.
Why Join The Retreat?
The focus of this retreat is Women's health and wellbeing including hormone health.
Spend 4 days and 3 nights escaping from everyday life, staying in Luxury accommodation, you'll have every need taken care of with delicious healthy meals cooked for you, a wonderful programme designed particularly for women, with Yoga, Nutrition workshops, InfaRed Saunas, Deep Rest and Meditation sessions
We look at what might be going on with our bodies at this time of life, share experiences and more importantly strategies on how to manage future or current symptoms. We look at the beneficial foods and nutrients and share strategies that have worked including supplements and other wellness techniques such as breath and relaxation techniques that can help with symptoms such as anxiety, stress, insomnia and more.
The retreat will be Covid assessed and secured.
WE HAVE APPROPRIATE COVID PROCEDURES IN PLACE AND WILL ADHERE TO SOCIAL DISTANCING RULES.
WE ARE KEEPING THE NUMBERS SMALL AND THE VENUE IS SPACIOUS.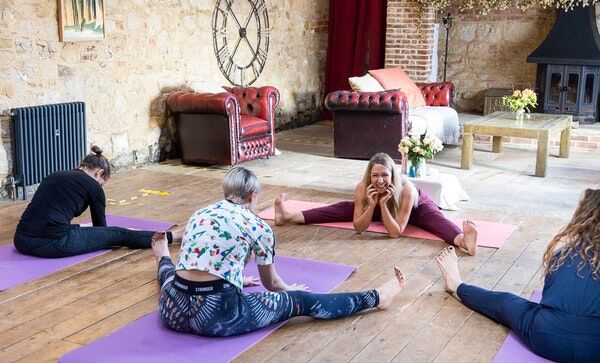 As well as having a wonderfully relaxing and rejeuvenating programme the retreat will also be educational and empowering. It will help us demystify our hormones, openly address the difficulties that can arise for women as we age; when we understand what is going on with our body and mind and what we can do to change it. This retreat will provide you with the knowledge and the tools to manage your symptoms more effectively and move through the changes with more grace and ease.
At our last retreat, we explored the symptoms as a group, shared experiences and tips and went home armed with new information. The guests enjoyed the informal nature of the workshops and felt better informed in terms of what was happening with their bodies. We explored topics most important to the health of women and plan similar workshops exploring hormones, fasting, weight management and much more next time.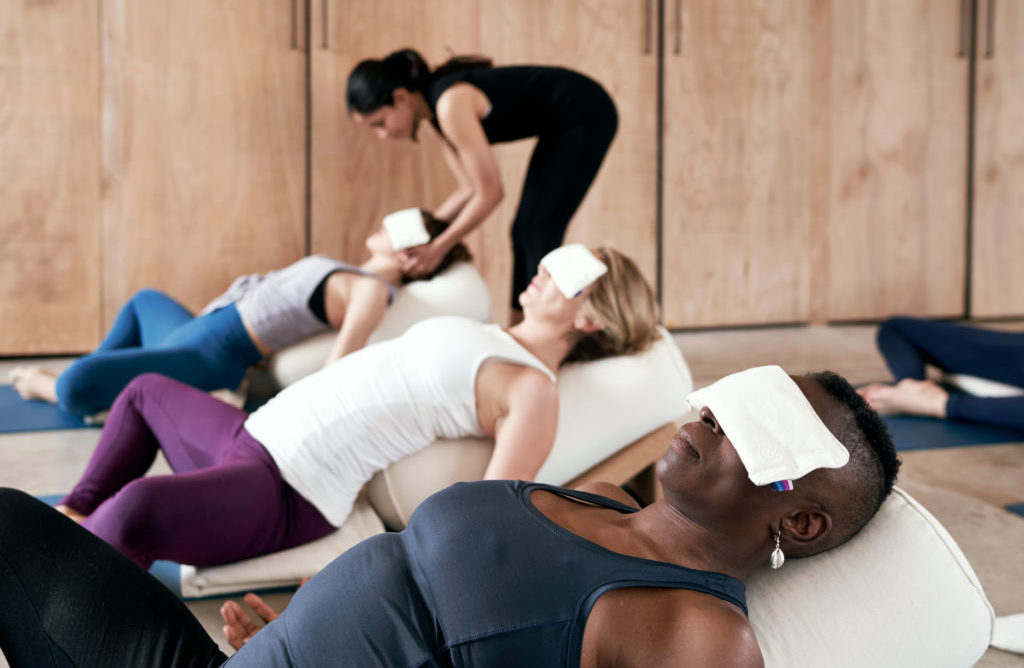 Expect a powerful combination of classes and workshops such as daily yoga, relaxation sessions, country walks, Sound Baths, meditation, and nutritional information, alongside tasty and healthy meals to equip you with the tools you need to manage hormonal changes.
All the classes are designed to directly benefit hormones, educate us around hormones or discuss managing symptoms. What ever stage or age you are at, you will benefit hugely, not only from deep relaxation, the yoga and meditation but also from the information you take home with you.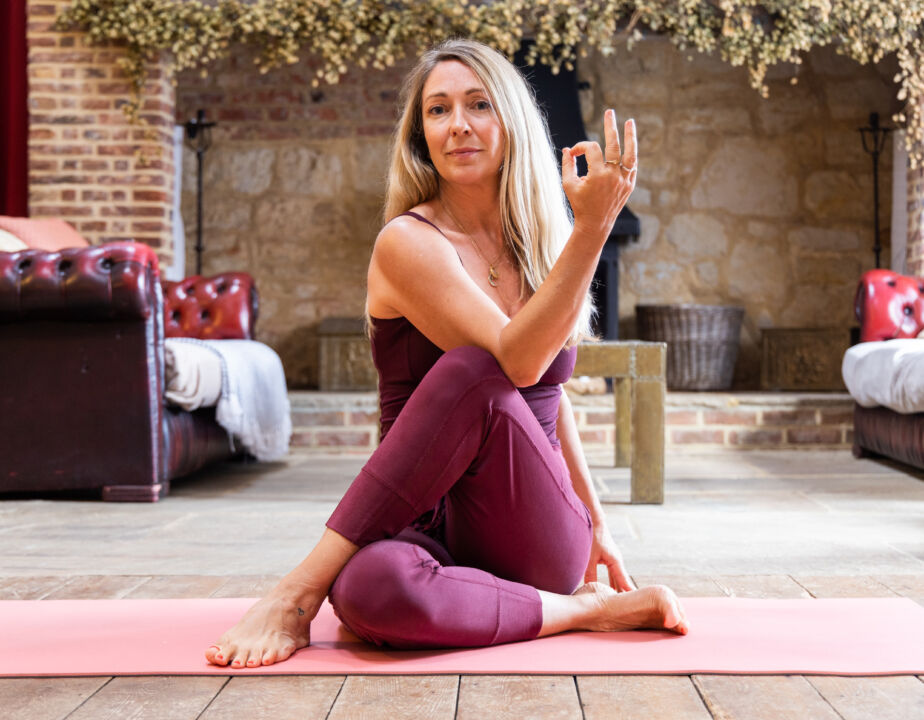 ABOUT THE YOGA PRACTICE:
De-stressing is critical to balancing the hormones that affect our moods, and our energy levels and sleep patterns and the meditative nature of yoga is a powerful tool in calming our psychological state. Our stress (adrenal) glands come under enormous pressure as we age and due to the stressful nature of many of our lives and dysfunction in this area is a strong contributing factor to a number of symptoms ranging from energy issues to anxiety. Yoga can help us manage these symptoms and help us regulate our energy and emotions. Yoga can help us slow down ageing!
Overall, yoga provides a myriad of benefits when it comes to managing hormones and energy levels
You don't need to have had any previous yoga or meditation experience to benefit from the programme.
Jess, as your Yoga teacher, will make sure you have the individual support you need. Jess teaches yoga classes, workshops and leads retreats all across the world. She is very experienced, having taught for over 14 years and has found it to be an empowering, transformational and supportive practice and is passionate about sharing the tools that support her, with others. Meditation is a key part of the retreat and you will leave with the tools you need to practice at home. The classes are designed with female hormone health in mind and through breathing, postures and meditation, yoga provides a therapeutic tool in the management of female hormone-related symptoms. There are plenty of options for those who want either a stronger class or a more restful one and complete beginners are most welcome too.
"I'm going home refreshed and revived.  Jess' yoga is inspirational and giving on all levels"   
–Kathinka, May 2021
"Perfect! Loved the variety in each of the classes.  Jess is such an inspiring, knowledgeable and fun teacher"
–Kate, Nov 2021
ABOUT THE FOOD and NUTRITION
👨‍🍳
What we eat and drink really is crucial for happy hormones. Our hormones play a part in the health of our hair, skin, libido, weight, muscle tone, and much more besides! As fluctuations happen, it's important to make sure our nutrient intake is optimal and that we are mindful of the less favourable lifestyle choices we may make.
We are delighted to have Kirstan Horn as our retreat chef!
Kirstan acquired his passion for food from his early travels through South East Asia, Australia & India. He honed his skills in the restaurants of London working with such chefs as Peter Gordon at the Sugar Club and Adrián Benobas at 1st Floor. He is currently head of product development at The Chapel & Swan Smokery who supply some of the countries top eateries & hotels. Kirstan does regular pop up events in Cambridge with chef Maoz Alonim as well as catering for retreats where he specialises in making healthy but delicious vegetarian dishes and will be working closely with Charlotte to provide a delicious, healthy and nourishing menu!
The food was, without doubt, a key highlight of our retreat.
The food was 5 star! Amazing variety' – Angela, May 202
'Oh my god! The food was beyond! Every mouthful delicious' –Susie, May 2021
'The food was outstanding.  Service was brilliant too' -Katy, May 2021
'The food, snacks and smoothies were exceptional, can't fault any of it – delicious! Can't wait for the recipes!' -Sophie, Nov 2021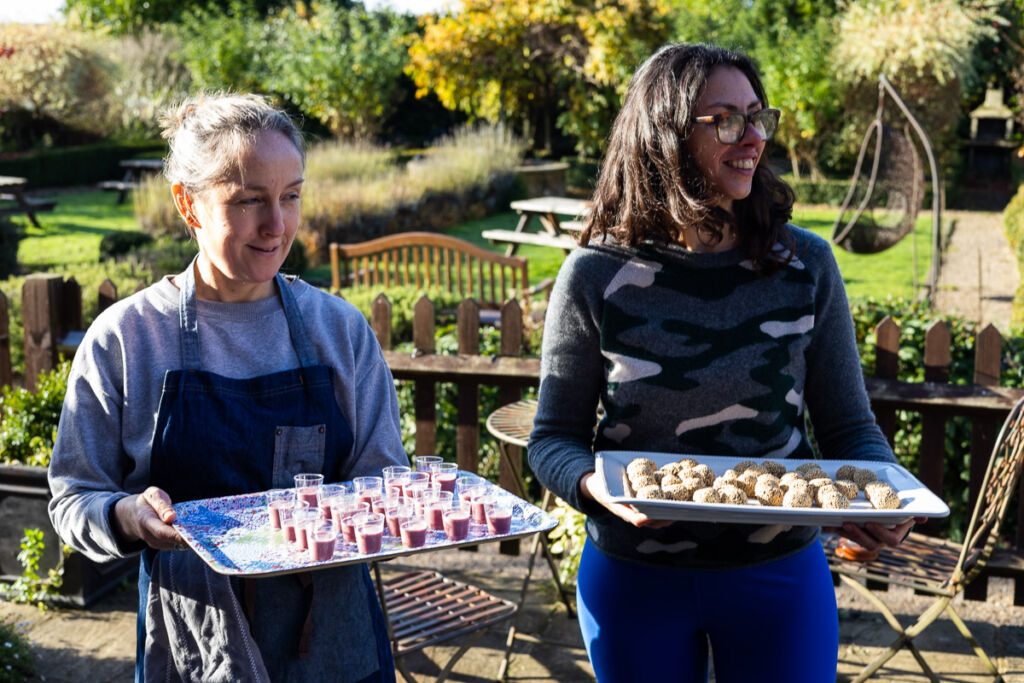 Charlotte Schilcher, Registered Nutritional Therapist
After 20 years of having a bit too much fun in the music industry, I decided to retrain in Nutritional Therapy. Throughout my 20s and 30s, I had experienced a number of health challenges. These ranged from mental health issues, hormonal symptoms, skin disturbances and perimenopausal symptoms starting in my early 40s.
They deeply affected my quality of life and conventional medicine offered limited solutions. I began to approach these issues holistically and after much research, I was able to bring my body and mind into balance through changes in my diet and lifestyle choices. This was extremely empowering. I felt in control of my health and that is a good feeling. Experiencing the benefits diet and exercise first hand left me compelled to share this knowledge and help others.
I'm really looking forward to helping you manage your hormones. I will give you the information and tools you need to maintain good health and happiness in your daily life.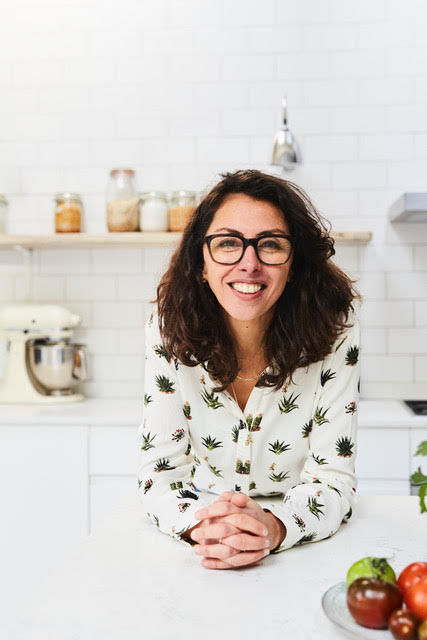 Jess Horn, 500hr Certified ISHTA Yoga Teacher
Jess teaches classes, workshops and leads retreats across the world, a yoga teacher trainer and teachers mentor.
She has been practicing for over 20 years and has found it to be an empowering, transformational and supportive practice and is passionate about sharing the tools that support her, with others. She is particularly interested in teaching meditation, movement and mindfulness which she feel's is so necessary to help deal with the challenges of modern living.
Jess has found that her practice has evolved over time and supported her through life's inevitable changes and the changes that we as women go through with age. She is incredibly excited to share the tools and practices that have helped her in this women's retreat.
Jess has been featured several times in Yoga Magazine, OM magazine and collaborates regularly with YogaMatters.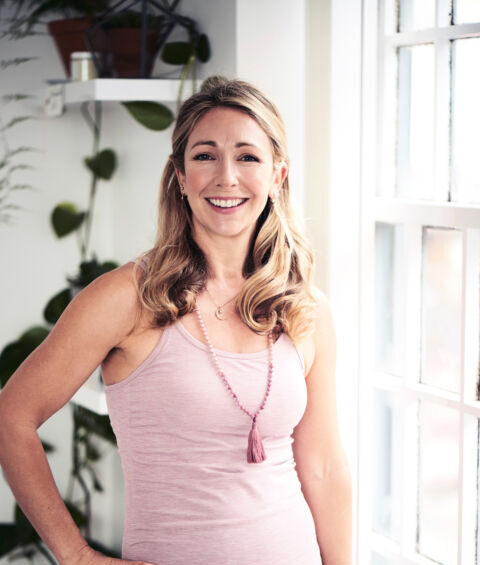 In the event of the retreat being cancelled due to Covid lockdown or government policy, we will offer a credit to a future retreat within the next 18 months or a full refund to be issued at such time that the venue returns the deposit to the organisers. Otherwise, the retreat will only be cancelled in individual cases on failure to pay the balance.
If you are unwell or have any symptoms please do not attend the retreat.
If you personally cannot attend due to a positive Covid result we can make arrangements on an individual basis to provide your credit to a future retreat upon proof of a positive test.