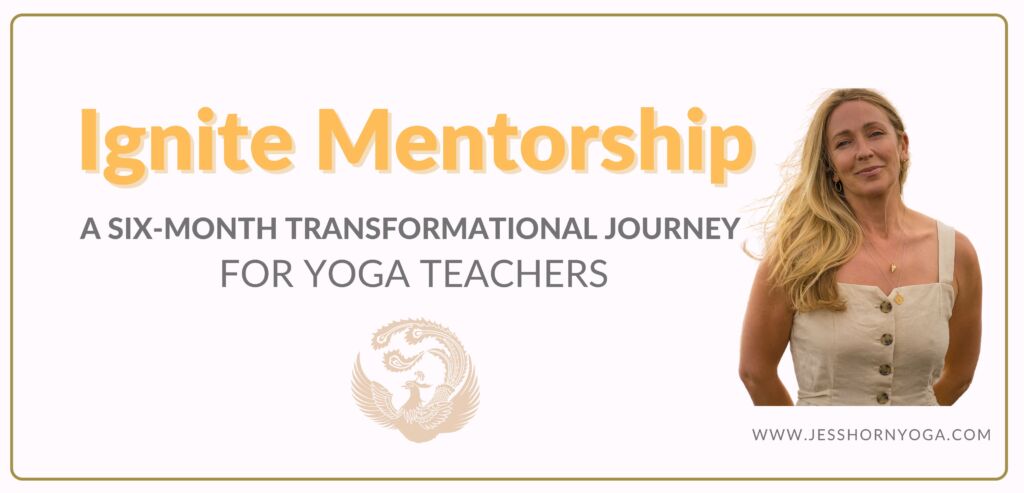 Are you ready to take your Yoga Teaching to the Next Level? To feel Empowered, Passionate and to find your own Unique Teaching Style?
Doors are open for my 6th Ignite Mentorship program, this time for just 12 mentees! We start May 2023, will you be joining us?
Read more on this page or book a discovery call to get to know each other and see if this is right for you!
So, you've qualified as a yoga teacher, NOW WHAT?
I know how passionate you feel about Yoga, it changed your life and you really want to share it with others.
You took your TT as you want to make a difference, to help others
and do something with your life that lights you up, but you also need to
make money and have financial freedom.
You've got the certificate!!! But now what?!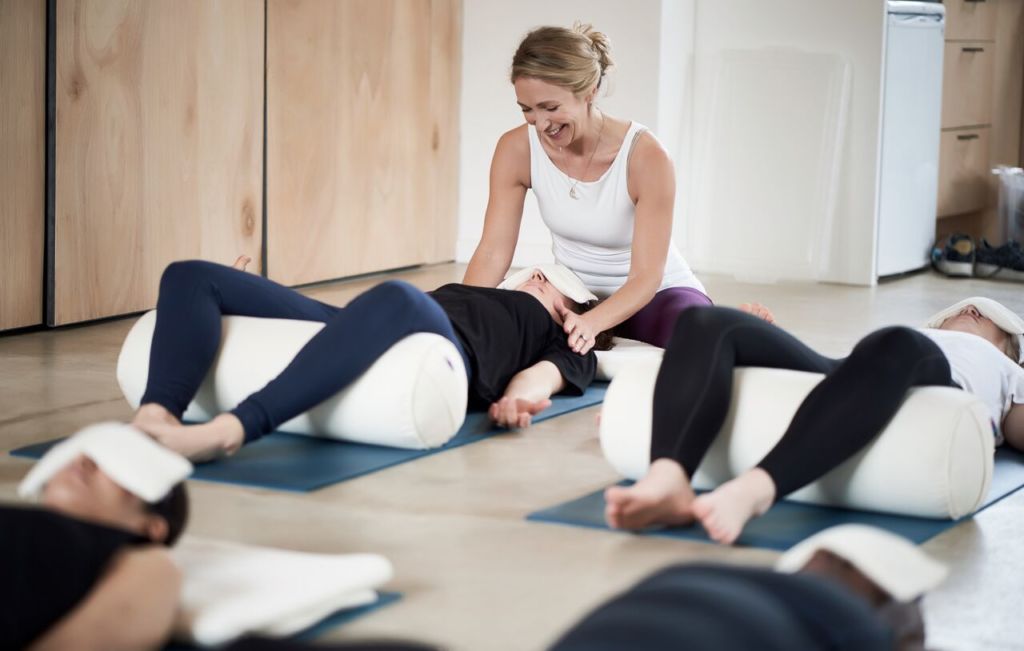 Perhaps you're feeling a bit lost? You haven't got a clue where to
begin? How to build a successful Yoga Business? I'm sure you've
got a lot of questions:
 Can I make enough money as a yoga teacher?
 Am I going to be stuck in my corporate career forever?
Is it even possible to make money as a yoga teacher?
During your teacher training, you felt part of a community and loved
the collective energy and inspiration, but now you feel alone and
not sure where to turn to, or who to ask ALL of the questions!
How can I stand out from the crowd?
How can I find my own unique style and authentic voice and
avoid mimicking my teachers or sticking to a script?
How can I work through this crippling lack of confidence?
Maybe your suddenly realising just how much wasn't covered in
your 200hr and need a safe space to ask questions?
Perhaps you feel unsure about how to modify practices for mixed
groups? Or for those with injuries? Or you feel nervous about
applying your new skills? Do you even know where to begin with
adjustments and when they're appropriate??!
Perhaps you're feeling a bit disillusioned with your own practice
and your yoga time has now become teaching prep?!
Maybe you're feeling like giving up the whole 'dream' of being a
yoga teacher?
Your biggest fear – What if I try to make a go of it, and fail? What if nobody comes to my classes? What if they do??! Who am I to teach yoga?
All of the hard work you put in to qualify and you might be feeling like it wasn't meant to be…
But there's still that voice inside, telling you not to give up on your dreams….
Maybe you're worried that due to the pandemic and the coming recession that it's just not the right time to begin a new career, that there are already too many yoga teachers out there?
What if I were to tell you that there has never been a better time?! That NOW is the time to begin! That there has never been more need for yoga in the world, nor has it ever been more possible for yoga teachers to turn their teaching into successful and lucrative careers!
With the pivot to online teaching, teachers are now location interdependent, you can start teaching with very little overheads and with access to people from all over the world! Also, people need to hear from YOU.  They need your experience of yoga, your unique experience of how yoga has changed your life because your unique experiences will resonate with the right people and help them.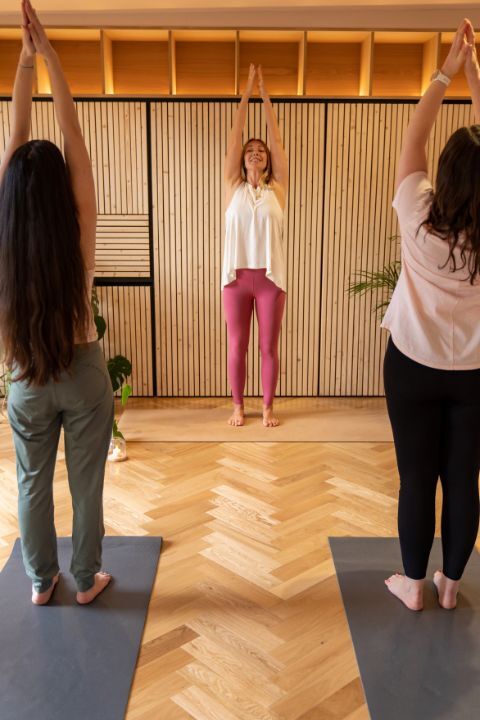 Believe me I have been in your position,
I remember all too clearly feeling so overwhelmed after finishing my 200 hr, I had NO CLUE where to begin!!!
I had no one to talk to, or to support me, and often I was too embarrassed to reach out to my teachers.
I would turn up to teach classes sometimes with only a couple of people in and take it sooo personally! I would feel sick! I remember being fearful that people would turn up, and equally fearful they wouldn't! I also became so disillusioned with my own practice; it became a time to work out what I could teach and how I'd teach it. I lost the joy, spark and peace that Yoga gives us!
Well fast forward thirteen years (many mistakes and a lot of time learning lessons and working with some great mentors) and my yoga teaching feels so grounded and I can honestly say I feel more inspired, and in love with yoga than ever!
I have taught and established a successful yoga business. With classes both online and when possible in person!
 I teach fulfilling workshops across the UK. I regularly run powerful International and UK retreats, I've taught at festivals and I teach and mentor on the London ISHTA Yoga 200, and 300 hr Teacher Trainings.
I've been running my own mentoring programme for teachers for the last few years and have helped many teachers establish thriving, and successful yoga businesses. I find it so fulfilling and I learn from everyone I meet and work with too! I love building community amongst yoga teachers.
"Having Jess as a mentor has been a godsend, it was just what I needed!
When I signed up for Jess' mentoring I had just returned from my second teacher training course and was feeling a bit overwhelmed at the thought of getting back into teaching.
Through Jess' guidance, I found my focus, started teaching again and am finding that I have more clarity around why I'm teaching and how I want to teach. Jess also shares lots of practical information such as breaking down asanas, sequencing, adjustments, social media, how to navigate the 'interview process' at a new studio etc. A lot of this information wasn't covered in my teacher training so Jess is in a sense filling the gaps of knowledge that I really needed. I highly recommend this course!"
So how can I help you?
This is a six month online, LIVE Yoga Teachers Mentoring Programme, which only opens its doors twice a year!
This course will not only transform the way you practice but the way you teach and approach your yoga business. It will provide you with space, community and guidance to make sure that you have all you need to be inspired, and to be an inspiring teacher, filled with creativity and more in love with your practice than ever!
During our time together you'll hone your skills and learn to trust your intuition enabling you to teach and speak from the heart. Over the period of six months you'll be provided with a safe and supportive space and with a warm Kula of teachers, all guided by me.
A space where you can ask ALL of the questions that might come up as a new teacher!!
We will establish strong foundations where you commit first and foremost to being a Yoga Student, you will be held accountable by me, and my team, and your mentee buddy.
This Programme Has 3 Main Pillars:
WHO THIS PROGRAMME IS FOR
If you are ready for change
If you'd like to create new healthy habits and Mindset
If you'd like to live more easefully
If you'd like more confidence and self-belief
If you are 100% ready to make a go of your yoga career
If you can dedicate a minimum of 30 mins a day to your practices: which include Mindset work, Meditation, and movement, this is non – negotiable.
If you are ready to commit to being an active member of the mentoring community.
If you're ready to commit to preparing for each call and doing the work
All qualified Yoga Teachers who would like to be part of a community and would like support to take their teaching to the next level, whether you qualified a week ago or 10 years ago.
WHO THIS PROGRAMME ISN'T FOR
If you can't commit to making changes right now

If you aren't ready to invest time and energy into yourself and growing your business
 If you don't have 30 mins a day to invest in yourself
If you're not ready to be part of a Community

If you haven't got time to prepare for our calls
My Sankalpa for you during this 6-month journey
That you re-ignite your passion for yoga and always put your sadhana first! When we keep space to stay inspired, we are more inspiring teachers.
That you become crystal clear on why you teach yoga, so that this guides you to create the career you desire, and that you feel and know you are in service.
That you have a powerful morning routine that sets you up for the day and helps you to feel aligned, productive and inspired.
That you feel confident in creating powerful classes, with safe and effective sequences. That you build your tribe of loyal followers who love you and who you love back.
That you have an abundant mindset and recognise yourself as the owner of your yoga business.
That you deepen your wisdom and expertise, and feel confident in understanding your students' bodies, hands-on adjustments and offering appropriate modifications.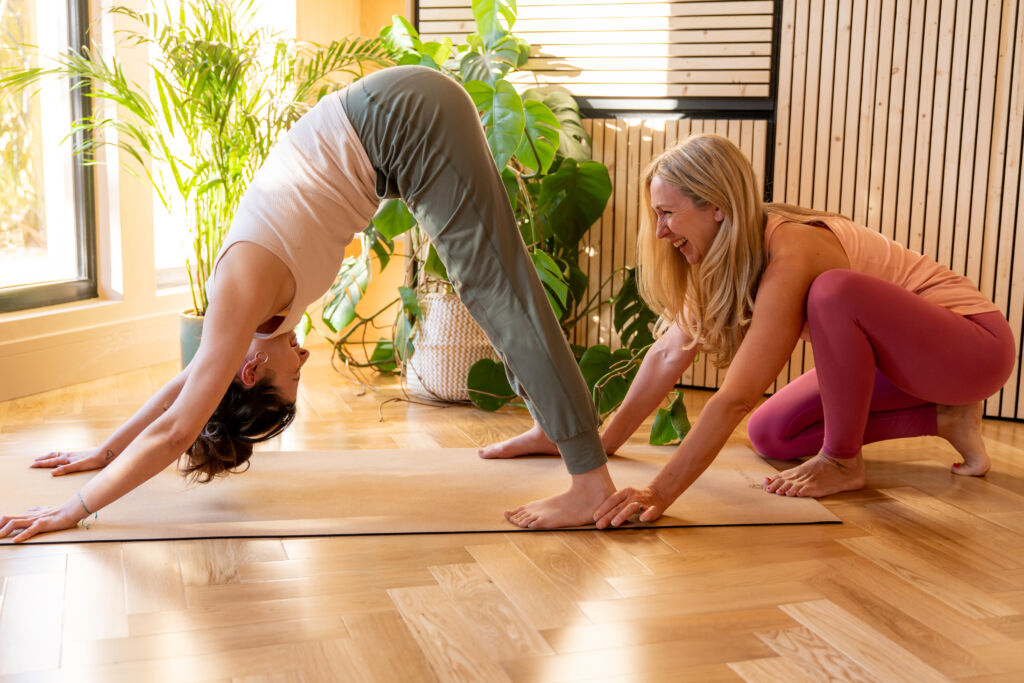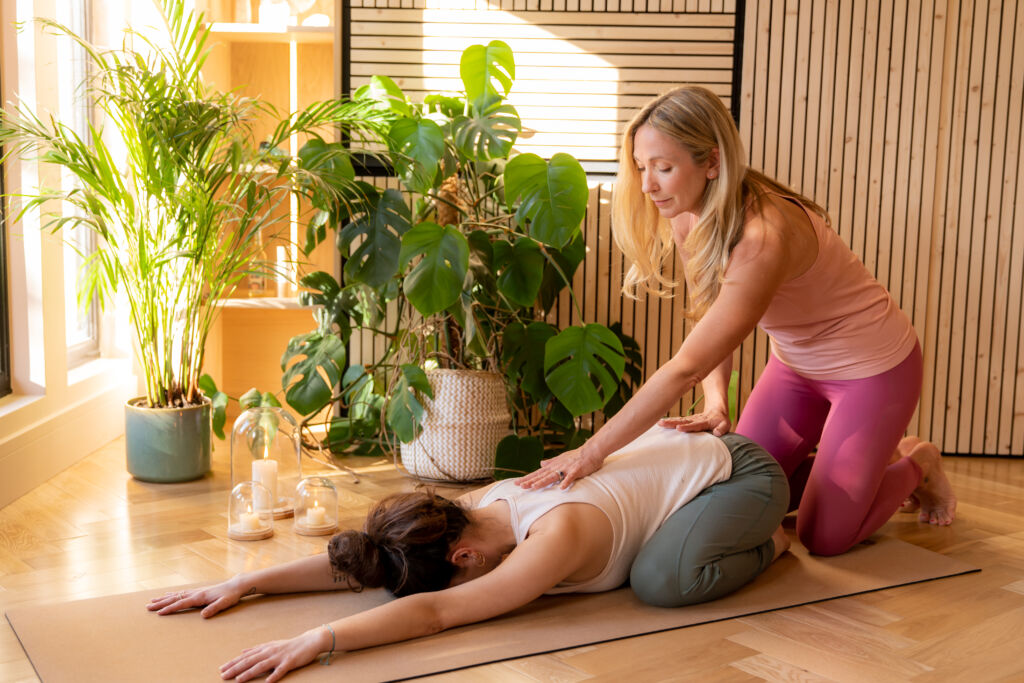 "Jess is a wonderful teacher: I have attended her 6-month mentoring programme and she now is my mentor and business coach, and she has guided me and taught me so much about yoga and becoming the best yoga teacher I can be. She has so much experience and is very practical and is happy to give advice and guidance in any area"
What You'll Receive during our 6 months together:
6 Modules, over 6 months, in a small Kula limited to 12 teachers.
For each module, 1 week prior to the meet-up, you'll receive a comprehensive resource and video and which you are required to watch and to prepare, ready for reflection and discussion.
A monthly online 4-hour training. Each month we will explore a different topic, and there will be a mixture of practice teaching and feedback, group discussion. Asana lab and practicum – These will be recorded, but your presence is required LIVE as this makes the delivery and group energy much more potent and we all gain more from the experience. If you cannot attend one you may watch the recording but please aim to attend as many as possible.
An online discussion portal for community, questions and support from me, my team and each other.
2x monthly live virtual coaching calls, which will be recorded for those who can't make them live.
A 45 min 1-to-1 Introductory Call with me to start personalising your mindset work and business plan.
An accountability coach.
An option to join me  for 2, half day workshops on Adjustments, Modifications and making yoga accessible for all bodies at my studio in Ellensbrook, close to St Albans – Date will be confirmed towards the end of the course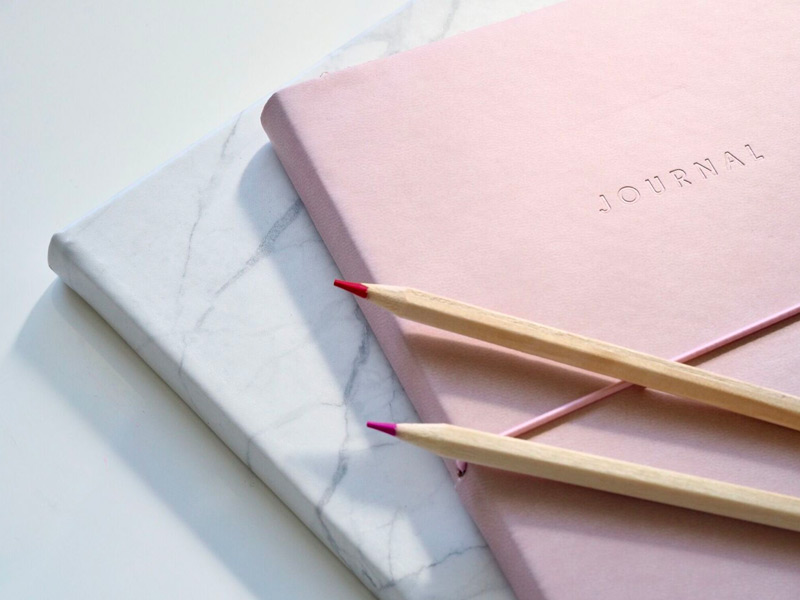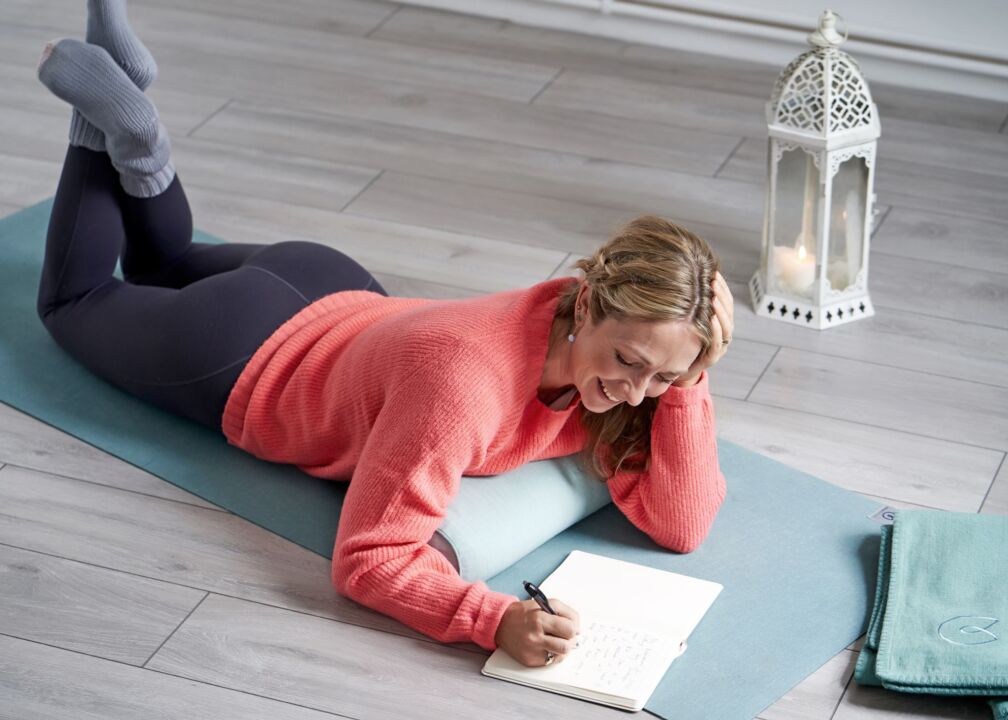 BONUSES!
Membership to my online class portal, up to 6 live classes per week and a library of over 200 classes – Worth £480.00
50% reduction to attend any of my online workshops – Worth up to £200.00
3 x 90 min Anatomy Tune-up sessions with a Yoga and Anatomy expert – Worth £180.00
2x Social Media Group Training with an expert – Worth £140
3 x 1-to-1, 45 mins Coaching calls  with me to take during the 6 months – Worth £240.00
Live mini trainings in our online portal to support you as needed, by me and by other specialists on their topics – Worth £500
Opportunity to assist me at UK and International Retreats/ workshops and classes – Worth – (Priceless)
Have one of your recorded classes reviewed This is useful to identify opportunities for growth, including sequencing, language and your use of verbal cue's, body language, and presence – Worth £200.00 (SIGN UP BEFORE THE EARLY BIRD PERIOD ENDS to receive this bonus)
BONUS VALUE: £1940.00
WHY Work With Me?
I feel confident in creating a safe and supportive space, to guide people to find their own best practice.
I have healthy firm boundaries and yet can stay loving and open, and know I'm living my Dharma and am of service to others.
I have a strong sense of my self and my brand, and feel confident in teaching MY yoga, not mimicking what I learnt in my teacher trainings or copying my teachers! I feel clear on how I want to show up, and support others in their journeys. I truly believe that the more yoga in the world the better we'll all be, and want to help others get out there and share their yoga, and get paid well for it!
I have been through it all, building up community and loyal students in new areas, getting classes in studios, building a successful and financially rewarding teaching career, finding successful collaborations, writing and being featured in yoga magazines.
I have done all of the hard work, making tons of mistakes along the way, so you don't have to!!
"I'd really recommend the mentor programme with Jess Horn. It's been extremely helpful in so many aspects of the whole spectrum of what is involved in teaching yoga! Jess was a very supportive mentor, and the monthly sessions were great because I got to hear others' experiences as a new yoga teacher, and to share mine.  Jess' input has been so valuable, especially in helping me to build my confidence around the business side of yoga"
How you can expect your yoga teaching to change over our 6 months together:
You will feel confident in teaching and offering powerful classes and offerings.
You will have a greater sense of your own unique offering.
You will have a better understanding of how to adjust and modify your students practice and how to keep people safe, helping them find a practice that is suitable for them.
You will feel empowered as a yoga business owner and have strong healthy boundaries that help you deal with situations and communication with others as they occur.
You will refine your teaching skills and develop your intuition.
You will feel a sense of community and forge relationships with people in a similar situation as you, who you can collaborate with and who will inspire and support you
You will add to your yoga CV, experience and wealth of knowledge.
"Jess is an incredible yoga teacher and it's been an absolute privilege learning from her on the mentoring programme.  
As a newly qualified yoga teacher, it's been invaluable having someone to guide me through setting up my own classes and continuing to develop my teaching skills and knowledge.  She's been able to share her wisdom and offer guidance on so many questions and issues that only come up when you actually start teaching in real life!  Most importantly, Jess has helped guide me on my spiritual journey, built my confidence and introduced me to tools that I'll continue to use long into the future! 
I've also loved being part of a community of yoga teachers, supporting each other and having fun along the way!  Thanks so much, Jess – it's been awesome!"
In order to participate in the 6-Month Yoga Teachers Mentor Programme, you will need the following:
You need to have completed a 200 hr teacher training course (or be finished yours by end of April 2023)
Be ready to commit to the community of teachers, including being active in the community online portal and committing to your accountability buddy
Be willing to show up and put in the hours, attend the meet-ups and listen/attend the calls
Prior to the course fill in your Letter Of Intention for the 6 months, we'll spend together
Reach out by emailing me at info@jesshornyoga.com 
Opening Ceremony – 18th May, 6pm-6.30pm
Module 1- 20th May, 2pm-6pm
Module 2- 17th June, 2pm-6pm
Module 3- 15th July, 2pm-6pm
Module 4- 16th September, 2pm-6pm
Module 5- 21st October, 12pm-4pm
Module 6- 18th November, 2pm-6pm
Closing Ceremony- 23rd November, 6pm-6.30pm
Sound interesting? Why not book in for a free discovery call so we can get to know each other and discuss if this is the right thing for you. Use the calendar to book a time that works for you! 
The Module topics:
Sadhana and Mindset – Establishing Essential Foundations – Your daily practices and Mindset reset. Getting clear on your WHY – the driving force behind your businesses.
The Business of Being a Yoga teacher – What it means to be a business owner, establishing essential foundations for your business. Money Mindset.
Safe and effective sequencing and fine-tuning teaching skills.
Creating powerful offerings, teaching themes, finding your authentic voice.
Boundaries, ethics, managing your energy and the reality of being a yoga teacher.
Moving forwards – how to build community, how to monetize and grow your business. Creating powerful offerings, workshops, retreats and courses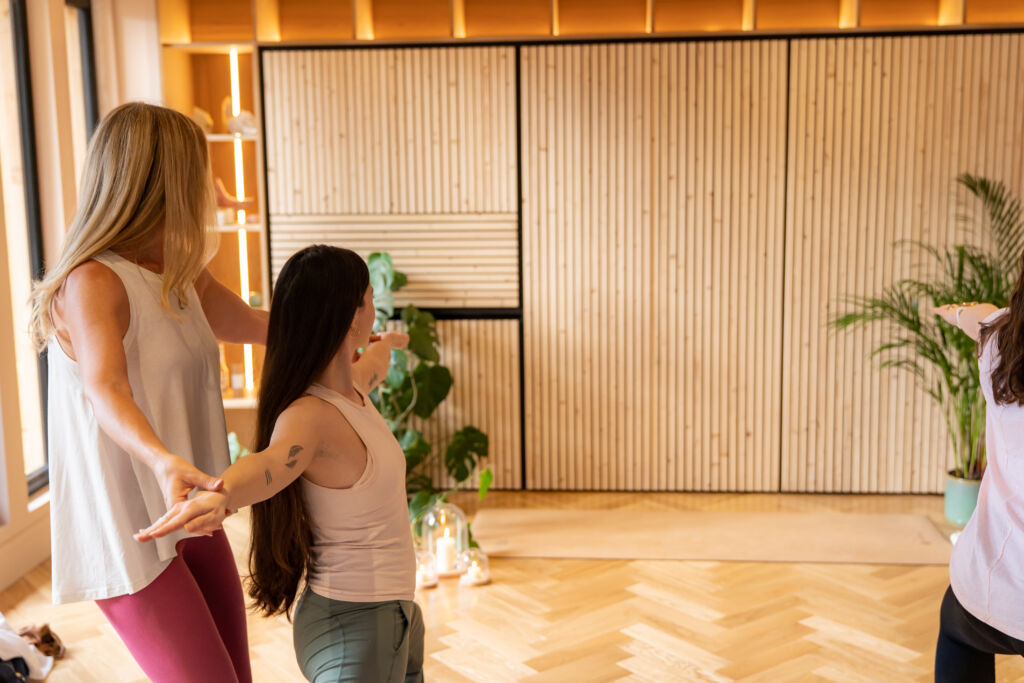 Why Study With Me?
I have been teaching for over 13 years, and practicing yoga for over 20.
Yoga is my passion and my Dharma.
My aim is to bring yoga to as many people as possible. I love teaching yoga teachers to spread the word of yoga as widely as possible!
Over the last 20 years I've studied, Sivananda, Ashtanga, Iyengar, and Vinyasa Yoga.
I have trained with some of the most respected yoga teachers in the world: Tias Little, Sally Kempton, Clare Missingham, Jason Crandell, Richard Freeman and Shiva Rea to name a few.
I have since found my spiritual home in ISHTA Yoga and in 2015 I took my 300hr training with my teacher Yogi Raj Katrina Repka. I'm now 500 hr trained. ISHTA means individual and is also an acronym for the Integrated, Science of Hatha, Tantra and Ayurveda.
I teach an alignment based, breath led, Vinyasa Flow.
I also teach Yin Yoga, Restorative Yoga, Meditation and Pre-natal Yoga.
I teach and mentor on the UK ISHTA teacher trainings, which happen in London. I run UK and Worldwide Retreats, run sold out workshops and classes both in St Albans where I live and in London.
It doesn't matter what school of yoga you're from, this course will help you refine your teaching skills and give you a sense of community and support.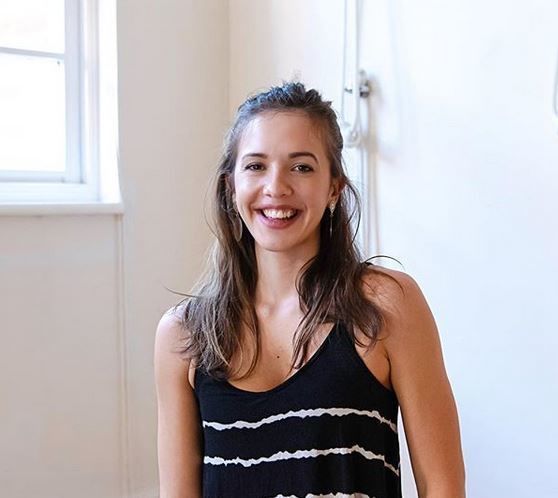 "Jess's mentorship programme has been so helpful to my journey as a new teacher. Jess is approachable, extremely knowledgeable and always has a helpful answer to any question! It has also been great to meet some other new teachers and share our experiences and learnings with each other. Would highly recommend to anyone that feels like there is something missing with their teaching!"
–
Chloe Chivers
Yoga Teacher and Freelance Marketing Expert
"I have just finished the Ignite Mentoring Program with Jess and it was exactly what I needed … As a relatively new Yoga teacher, I have been able to gain more self confidence, do some practice teaching with other like minded yoga teachers, find a community of soul mates and learn from Jess vast experience in teaching. She organised this 6 months mentoring program with online monthly sessions and weekly calls, homework, tips, advice and support to help us grow our new business. Jess gave us access to a mentor and various other specialists (social media, physio etc…) and it was very complete training which I can only recommend to any yoga teacher" 
– Claude
Yoga Teacher, Meditation Teacher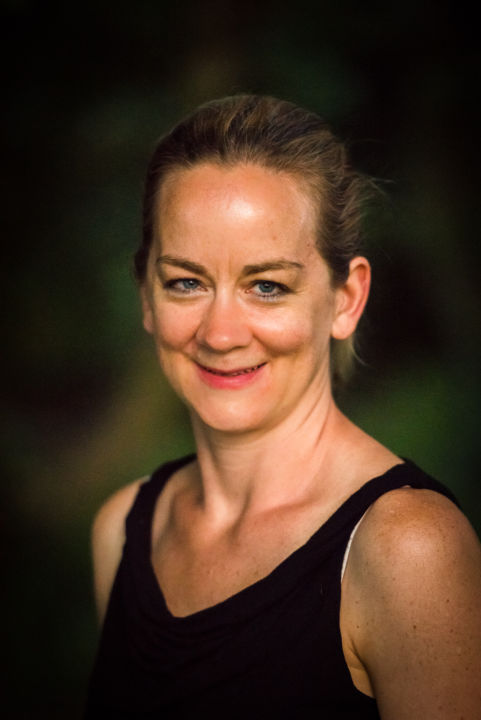 "I am thoroughly enjoying the mentoring course so far. Jess is so knowledgeable on all things yoga and the monthly modules are packed with information that builds on our 200hr teacher training. 
The group is very supportive and at each meeting we each talk about how we are doing and what challenges are coming up for us. Jess and the other mentees have helped me deal with issues with my confidence as a teacher and questions on marketing, sequencing, adjustments and much more. 
Jess has encouraged us to ask as many questions as we can and to open up discussions. She has also been very open to suggestions and changes to the course and really wants us to get the most out of it. She is available for questions on Facebook each day and for calls each month and has so much experience its an invaluable resource for a new teacher. 
I would thoroughly recommend this course to any new yoga teachers
I have absolutely loved working with this amazing and powerful group of women and can't believe the 6 months is almost up!"
"I had been teaching for nearly two years when I started the mentoring programme with Jess. I had got into a habit of saying yes to anything and everything that came my way and was teaching all over the place to a variety of different people. This was great but I was exhausted and felt a little lost. Jess immediately helped me to remember why I chose to teach in the first place and helped me to prioritise my own practice (something that had been put to the bottom of the list when busy). She helped me to develop boundaries, value myself and my business and I learned so much about the ins and outs of running a yoga business such as setting up online payments,  developing a mailing list and what needs to be included on a website (to name a few). She has been an amazing inspiration and I really feel she went above and beyond my expectations of the course, it really was a good investment! I feel confident in who I am as a teacher, a business owner and a practitioner. Thanks so much Jess!"
"I first met Jess a couple of years ago on one of her day retreats she held in St Albans. Straight away, I was inspired by her teaching- her style, nature and knowledge and I remember thinking how much I aspired to be a teacher like Jess. I signed up to her mentor programme in January 2020 and have developed so much as a teacher since then. Jess really helps to form a warm and inviting Kula (community) of yoga teachers and I have definitely made some friends for life from this mentor programme too. It is such a well-rounded mentor programme and Jess' knowledge is so vast! I have developed in all areas of my teaching- my confidence, class planning and sequencing, chanting, philosophy and the business side of it. I really don't want it to end! I wish we could just carry on with meet ups and group discussions which I am sure we will from the little community of teachers we have made! Thank you so much Jess, you special lady. x" 
– Lucy Hurley
Yoga Teacher, Masseuse, and Trainee Osteopath