Want to Deepen your Love of Yoga and Learn how to Teach others?
A 250 hr non dogmatic Yoga Teacher Training with Lead teachers Jess Horn, Emma Arscott & Guest Experts. We felt strongly that an additional 50 hours of training is incredibly valuable to offer confidence upon graduating as a newly qualified teacher. The additional hours will include exploring different styles of yoga, in depth applied anatomy, philosophy and practice teaching.
Join Jess, Emma and their team for an in-depth foundational teacher training that commences in March 2024. Our approach to the practice is similar in that we both love to honour the traditional philosophical teachings & ancient rituals whilst keeping an open mind to new ways of moving with a modern approach to anatomy. We have created this training programme to ignite an inspirational spark for new teachers to deepen their own connection to the practice and share the wisdom & magic of yoga with others.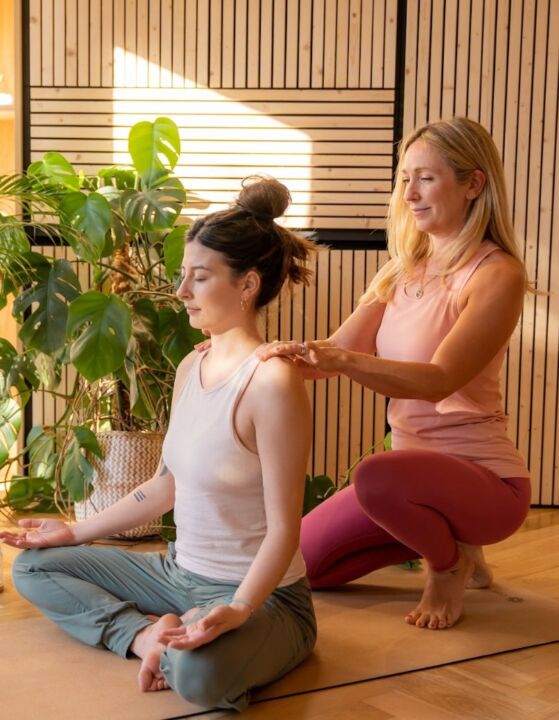 Why choose our programme?
We don't produce copycat teachers and will encourage you to find your own voice and style as a teacher
The Course will be a full authentic Yoga Teacher Training Honouring Yoga's roots and Traditions but paired with Modern Anatomy and Neuroscience
Our Training is IN person, post pandemic so many Teacher Trainings have gone online, we fully believe in the power and potency of an in person experience
It will be a small intimate group of only 9 trainees you won't get lost as you could in bigger trainings. You will feel heard and supported.
Its great value with at least 50 hours of extra hours.
Having mentored 100's of teachers Jess and Emma really understand what is missing from many 200 hrs and will do their best to fully prepare you for the reality of teaching
We have amazing expert guest teachers coming to teach yoga philosophy, applied anatomy and breathwork. These are the best in their field!
This teacher training is Non dogmatic meaning it isn't tied to any particular lineage of yoga. You will qualify in traditional Hatha yoga & Vinyasa yoga. Both very open & varied in how this can be interpreted to your own unique style.
There will be plenty of teaching practice so that upon graduation you feel confident delivering a yoga class
Course Structure
170 contact hours
10 hours online coaching
10 hours observation
10 + hours teaching
20 + hours course work
10 + hours reading
20 + hour practice journal
Dates
March – 23rd & 24th
April – 13th & 14th
May – 17th, 18th & 19th
June – 29th – 28th
July – 27th & 28th
August – 31st & 1st
Sept – 20th, 21st & 22nd
Oct – 26th – 27th
Nov – 16th – 17th
Dec – 14th – 15th
History and
Roots of Yoga