Sold Out
Please call 07891 950660 or email info@jesshornyoga.com to find out the date of our next similar workshop or retreat and to be added to the waiting list.
Luxury Two Destination Retreat at Marrakesh & Atlas Mountain
Saturday 3rd - 10th June 2023 (7 days) / Marrakech, Morocco and Atlas Mountain
About Kasbah du Toubkal
Kasbah du Toubkal is perched on a great rock outcrop above the village of Imlil in the High Atlas mountains. Just 90 minutes from Marrakesh, the Kasbah is set within the Toubkal National Park below the towering flanks of Jbel Toubkal, the highest mountain in North Africa. It is a place of outstanding natural beauty, peace and seclusion.
The Kasbah has panoramic views of the mountains, valleys and waterfalls and is reached by a short walk (15 minute) or mule ride from the village of Imlil. There are daily guided walks and the Kasbah has its own traditional hammam. The hammam is free to be enjoyed after yoga or a walk and is DIY in contrast to the hammam at Tigmi where you are bathed and scrubbed by a therapist.
About Tigmi
Tigmi, situated 24km south of Marrakesh, is set within a magical desert landscape. On the brow of the Berber hamlet of Tagadert, its labyrinth of narrow alleyways and flat-roofed village houses has a timeless, biblical feel.
'Tigmi', meaning 'my house' in the local Berber dialect, was built in 1840 for the local judge. As with many North African dwellings, the interior is all; a step inside, and the peaceful beauty of Tigmi is revealed. The first impression is of a lovely garden laid to lawns and paths, with banana palms, citrus and olive trees and a swimming pool with soft, jade-coloured water. The scents and colours of orange blossom and roses assail the senses. Many tortoises live in this garden, adding to the unhurried feel of this tranquil oasis.
There are two swimming pools, one of which is heated to 26 degrees throughout the year, and one natural unheated and no chlorine. There are sun-loungers around the pool and shaded areas in the gardens, furnished with comfortable divans for those of you who prefer to relax out of the sun.
"I have never practised yoga with such magnificent views as those around the Kasbah in Imlil – set in a valley, surrounded in mountain ranges with hilltop villages. " — CHARLOTTE
The Accommodation
The bedrooms at the Kasbah and Tigmi are authentically Moroccan with generous, comfortable beds, cool sheets, hand-woven covers and cushions, and large, en-suite bathrooms. Many of the bedrooms have fireplaces and private terraces. A range of standard, superior and deluxe rooms are available at the Kasbah. For Tigmi, the standard Berber rooms are offered but suites are available on request and the supplement is payable locally.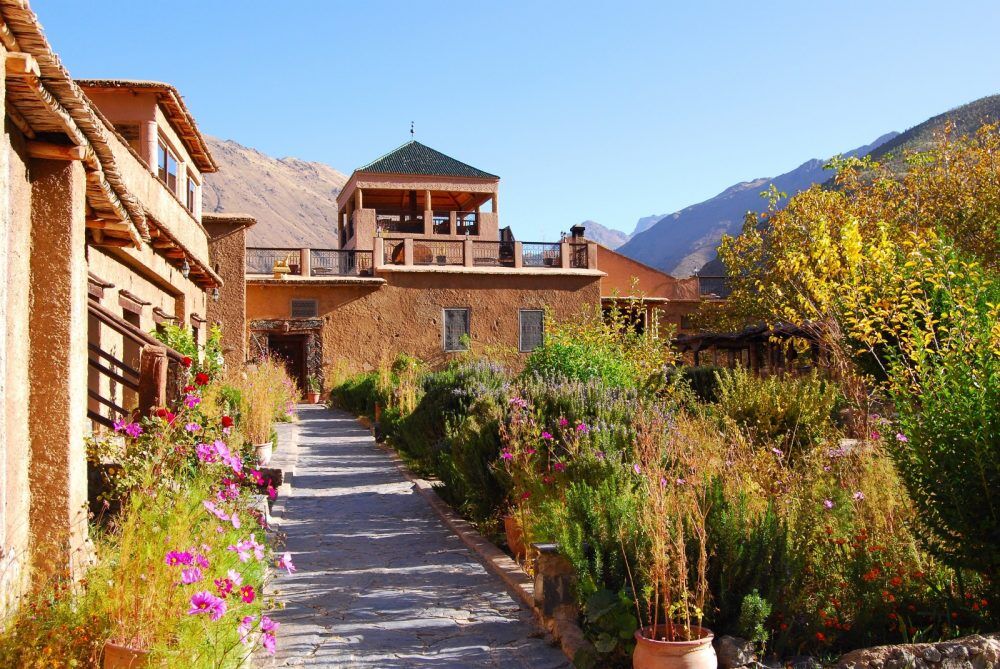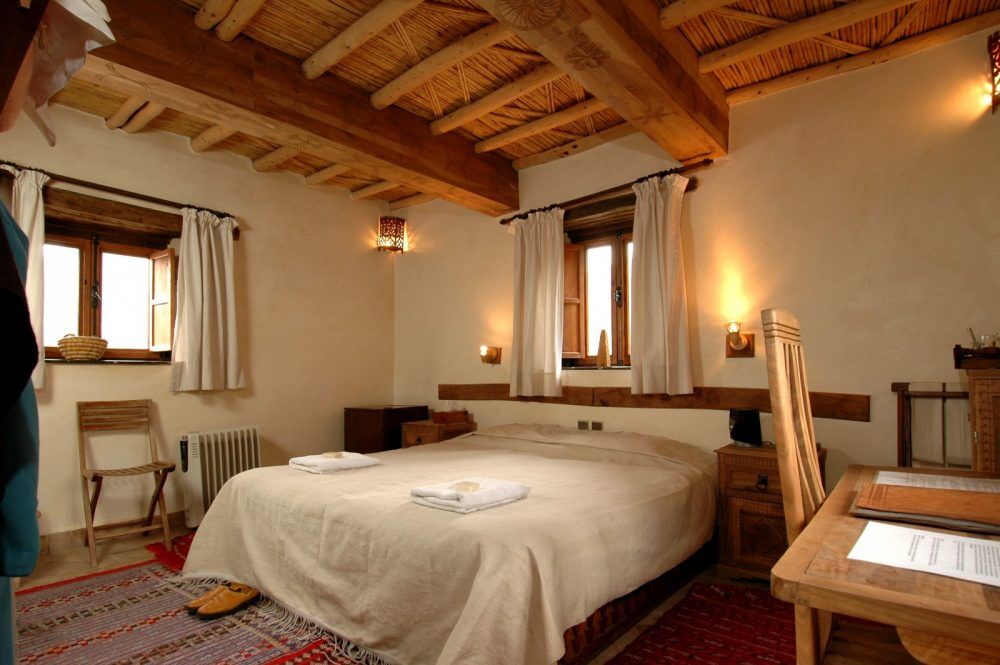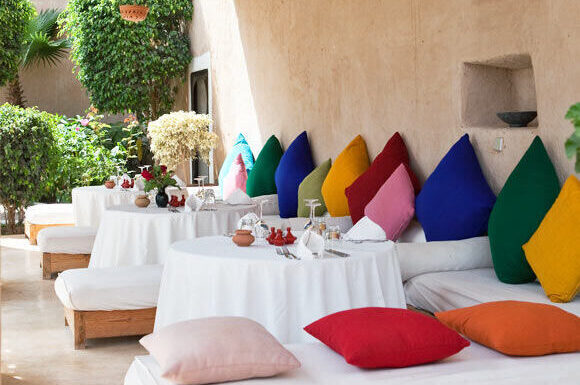 Standard twin or double room at Toubkal & Berber room at Tigmi £945pp
Standard single occupancy room at Toubkal & Berber room at Tigmi £1245pp
Superior twin or double room at Toubkal & Berber room at Tigmi £1015pp
Deluxe twin room at Toubkal & Berber room at Tigmi £1175pp
All prices are per person
Cost includes:
Accommodation, breakfast, lunch, and evening meals at both the Kasbah and Tigmi, two yoga classes per day with two yoga-free half days. A free airport transfer is offered on a recommended flight to Marrakesh. Please see 'Travel arrangements' for details.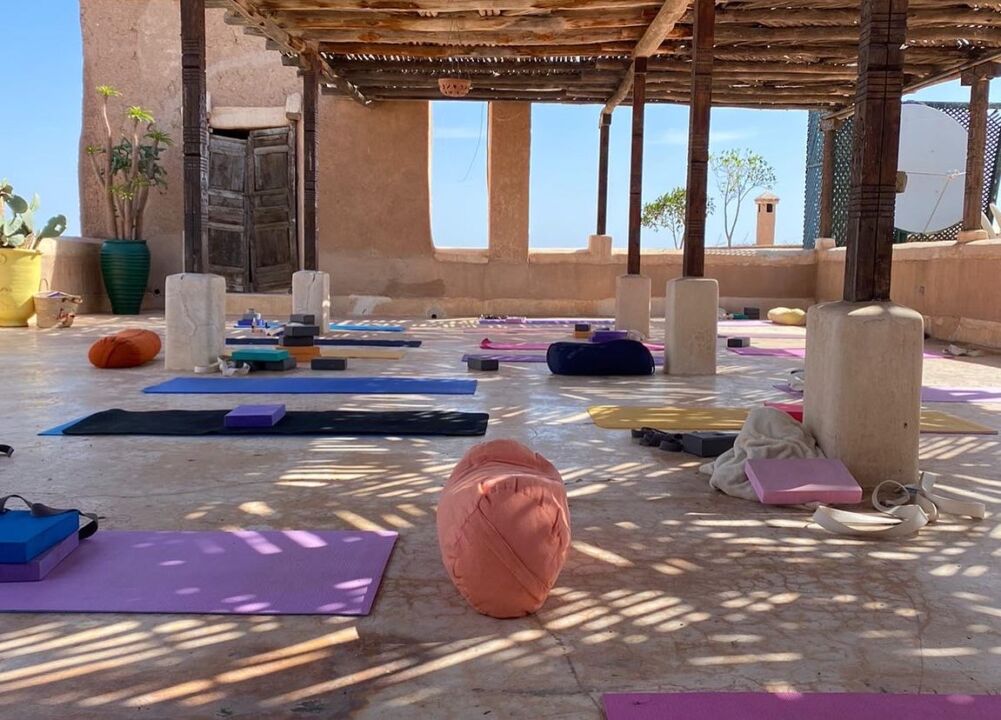 The last four nights will be at Tigmi where there will also be two yoga classes daily with one yoga-free day. Again each morning there will be a flowing and more dynamic yoga class. Each evening a gentle more restorative class. The classes will be suitable for all levels and experiences. The yoga space at Tigmi is a covered roof terrace with stunning views of Marrakesh across the plains.
The first three nights will be spent at the Kasbah, where there will be two yoga classes each day and a guided walk. In the morning there will be a flowing and dynamic yoga practice which will be followed by breakfast. A guided walk will be on offer each day and in the evenings a more gentle and restorative yoga session before dinner. The outside yoga space at the Kasbah takes in the mountain views while enjoying the fresh and pure mountain air.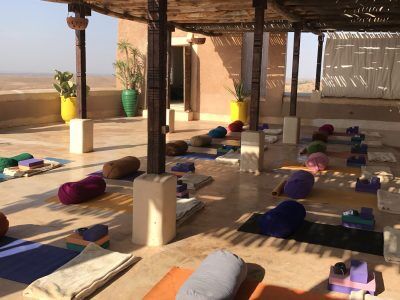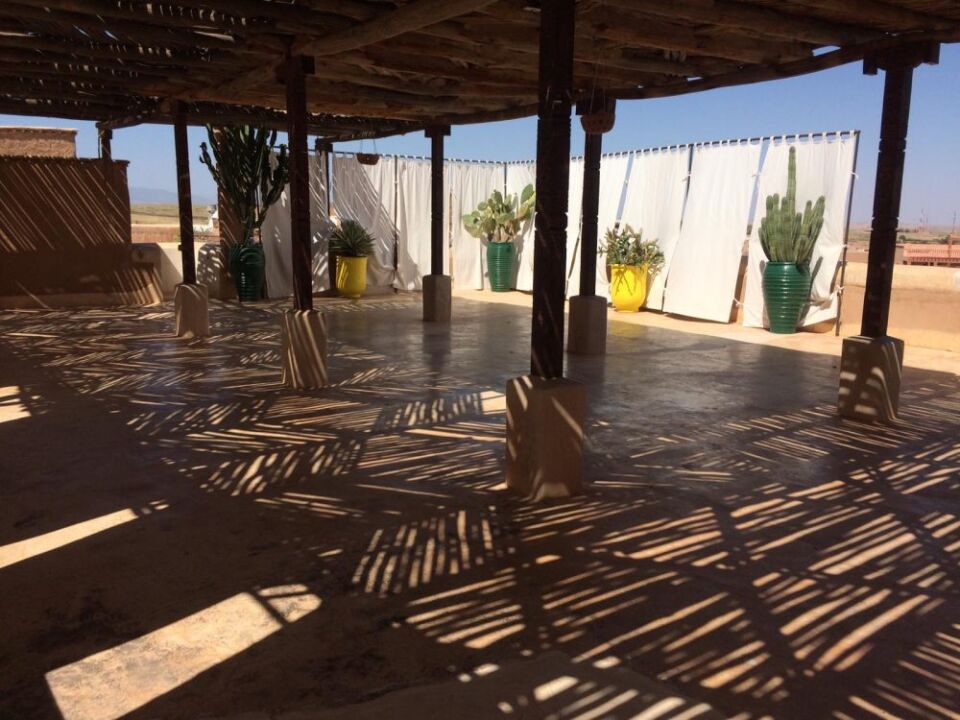 "The retreat was fabulous. The 2 locations are just perfect, with lovely rooms and general facilities. The yoga spaces at both venues were lovely and it was a real privilege to be able to do yoga with those stunning views." – Jenny
Why Join? The retreat offers an AUTHENTIC and INTIMATE experience, providing deep connection between your yoga practice and the beautiful natural surroundings.
The benefits of retreating are huge and in idyllic settings with plenty of space, you can truly switch off from your responsibilities and have time for yourself.