Sold Out
Please call 07891 950660 or email info@jesshornyoga.com to find out the date of our next similar workshop or retreat and to be added to the waiting list.
Magical Yoga and Beach Holiday in Goa, India
1st – 8th February 2019 / Goa, India
Goa is a magical and exciting vibrant holiday destination and to have a place like the Banyan Tree is really special. It is close to the vibrancy and energy that Goa offers but tucked away where you can really deeply relax in the beauty of this much loved Indian state.
Join me for a magical week-long Yoga Retreat and Beach Holiday, with a lovely group of like minded individuals, at the most wonderful of settings. This is the perfect time for you to GET AWAY and RESET, don't miss this!
The intention for this holiday is to enjoy all that Goa has to offer but to also dive deeply into your yoga practice. In simple surroundings, restore your elemental balance and deepen your practice.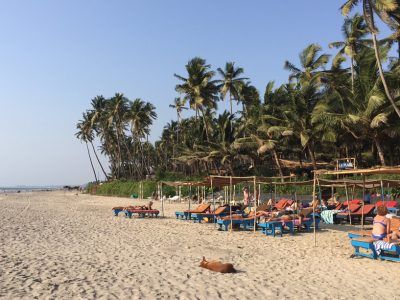 We will:
1. Start each day with a two hour morning Mindful Vinyasa Yoga class – A flowing asana practice to connect the body, mind and spirit. We will explore pranayama, mudra, philosophy, deep relaxation and meditations.
2. Every day between breakfast and the late afternoon practice enjoy free time to explore, relax by the pool, visit one of the local stunning beaches, have a massage, or simply engage in some horizontal meditation!
2. The afternoon practices will be deeply healing and restful, Restorative/Yin based classes that include Pranayama, Meditation or Yoga Nidra
3. Have two half days free to explore the local attractions and countryside, take a cookery course or simply relax while enjoying the beautiful Indian coast. Up to you!
4. Enjoy delicious home-made traditional and healthy meals for breakfast and dinner, that are produced from the Banyan's very own vegetable patches or from local farmers. I really can't wait for these, the food at the Banyan Tree is Sooooo Good!
Start booking your place now and let's have a magical yoga beach holiday trip together soon!!!
Price starts from £470, suitable for all levels