Meditation made easy for the Modern world
21 days to find a calmer, spacious, and more joyful mind!
Meditation can be tricky, can't it?!
I mean how many times have you sat down and thought, "I must clear my mind" and then 10 mins later you've made a mental list of all of the things you're going to eat that day, who you're going to call and what you're going to say to them… plus planned your next holiday! Maybe you've tried lots of times and it always falls by the wayside and you just can't stick to it.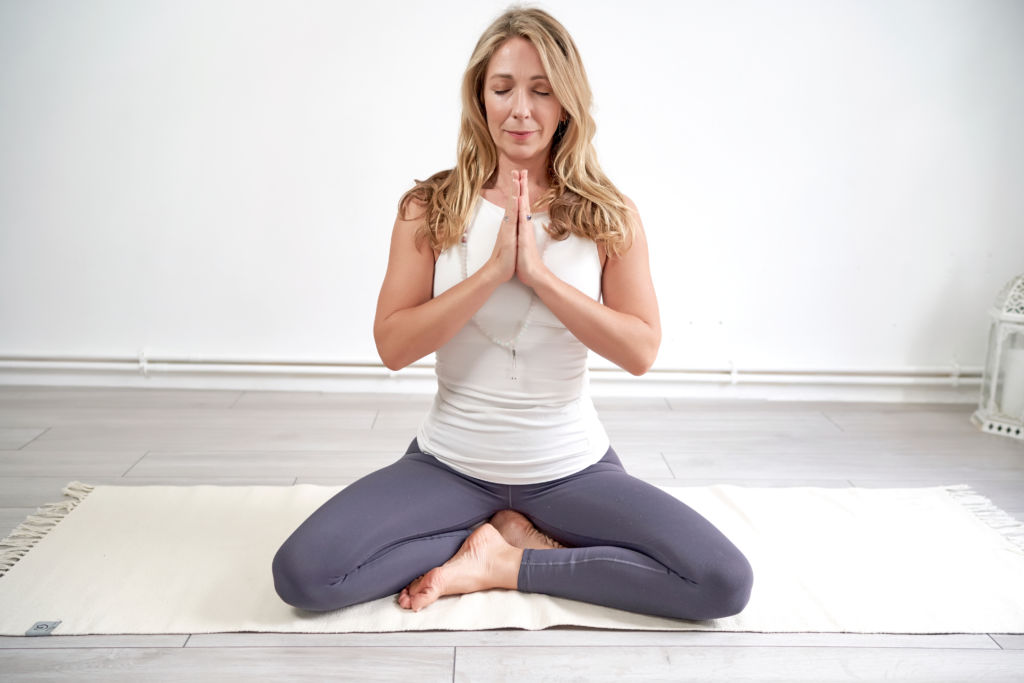 I struggled with Meditation for years, and would inwardly groan when my yoga teacher said "today we'll end in Meditation" I sit there dying for the bell to go!
I loved Asana from day 1 but found sitting HARD work!
Well, now I love meditation, and its the most peaceful and non-negotiable time of my day. It keeps me sane and I truly believe makes me a better mum, a more patient wife, and gives me time and space for clarity. It's often when I get my best ideas, insights, and revelations. I know that if on the rare occasion I miss my meditation I know about it!
Maybe you've tried on and off to meditate but nothing's ever really worked for you? Or maybe you feel you haven't had the discipline or that you don't really know what you're doing??!
Well, I'm going to share with you my tools and techniques to make meditation easier and actually enjoyable!!! I will provide and hold space for you, to commit to practicing meditation daily for 21 days.
You'll try 4 different but complementary meditation practices so that you can find what works for you, and grow your tool kit and experience. I'll be there to support you every step of the way and as a kula, a community we'll all cheer each other on, to make sure we commit to a daily practice, as this is how we grow!
The more you do it the easier it becomes and establishing it as a daily habit is key!
A 21-day Training to help you fall in love with Meditation!
Whats included:
A welcome to Meditation introduction and live Q and A
A Private Group with support and tips from me


An online 21-day commitment diary to record your reflections and notes into.

4 different meditations all taught live and videos of them to keep for life
First 2 days of each meditation will be taught live, and you will be sent a video recording of each meditation to practice at home for the next 3 days –

4 videos which are yours to keep for life

If you can't make any of the 'live' sessions you can always watch them in your own time and convenience, but you need to commit to the 21 days of practice!
At the end of every 5 days, there will be a live Q and A and support session to cover any questions and issues that might have come up
Each technique will include a Pre-meditative asana sequence and pranayama for you to practice before your meditation sessions.
On the 21st day, we will all meditate together, each choosing our favourite technique.
The group will be open for a further week to provide you ongoing support and as you take your meditation practice forward!
Live Meditation sessions will take place in the mornings, (dates and times listed below!) the first 2 days of each 5 day period. If you can't make the 'Live' meditation don't worry you can catch up in your own time, later that day.
All this for ONLY £37.00
A great investment for a Calmer, more spacious, and clearer you, and you'll have the videos to practice for life!
WHEN?
The Challenge will kick off on the 7th of May when I will do an introduction to Meditation and live Q and A at 6 pm.
We will start the 21 days on the 8th of May.
The Days for Live Meditations
The support group opens for 1 more week as you take your practice home! Closes on the 5th of June.
I've been practicing yoga for over 20 years now, teaching for the last 12 and during that time I've trained with many Yoga Masters, from the US, India and UK's finest! But it was when I found ISHTA Yoga – (Integrated Science of Hatha, Tantra and Ayurveda) that I found a way to meditate that made sense and that was grounded in both traditional techniques and science.
In ISHTA we use Traditional Tantric techniques, (no not the sexual form!) and Hatha and Pranayama to prepare mind and body to meditate with more ease.
I've also trained with Tantric Master Meditation teacher Sally Kempton and in this 21 day Challenge I'm going to share with you the best tips I've found, that has made me fall in love with meditation!